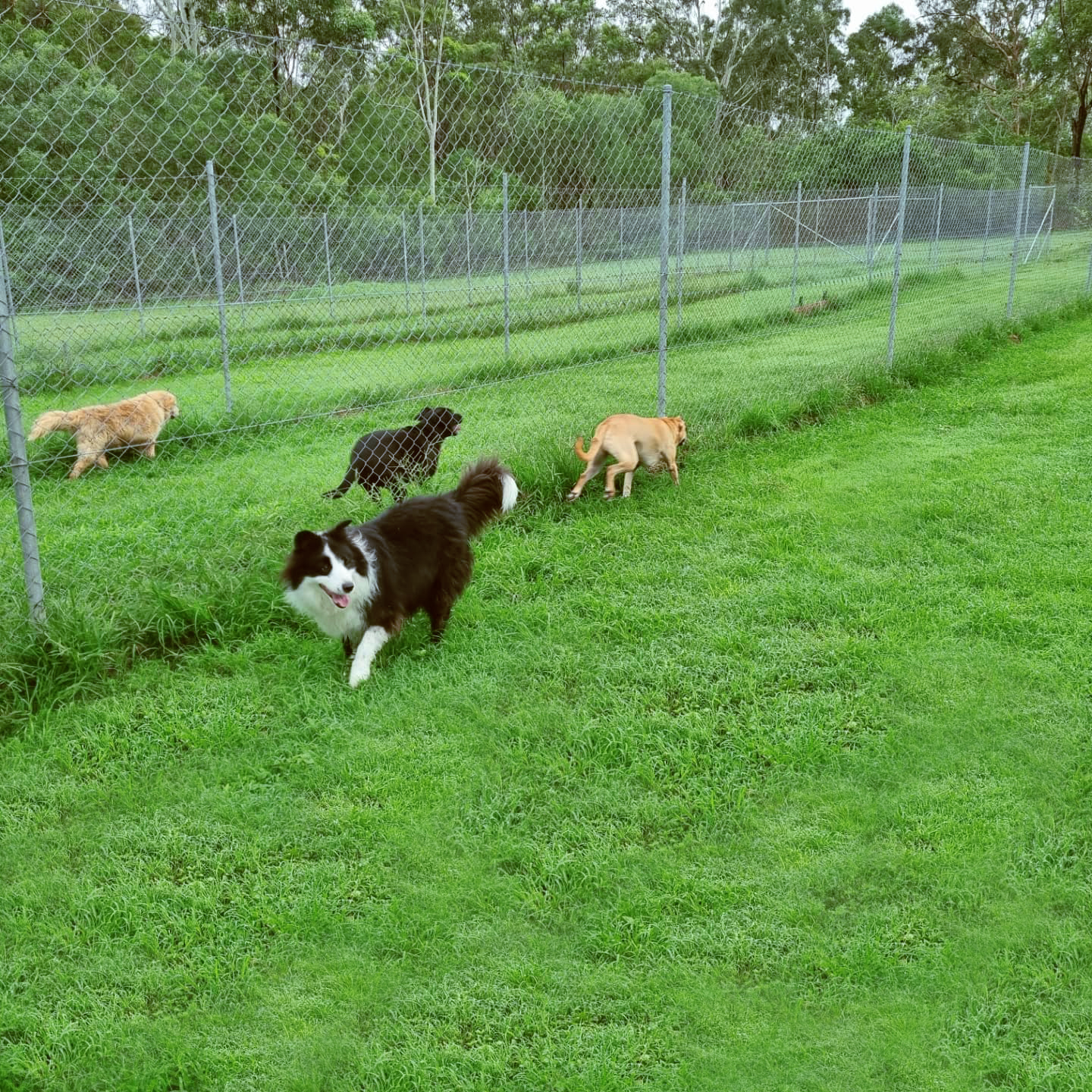 Dog Kennels Yeppoon
The dog kennels in Yeppoon have the largest outdoor grassed areas on the Capricorn Coast, with plenty of space for off-leash exercise for your pet. There are two separate dog areas identified as the Kennelled dog areas and the little dog area. Additionally, there are two very large grassy fenced areas that incorporate larger group play.
Shared Kennelling
Contemporary canine research indicates that it is safer and more comfortable for dogs to share their boarding with a mate. Shared kennelling is only used when requested and will be either a family member or an assessed appropriate partner.
Kennel Facilities (3 Blocks)
Block 1 (Jabiru) & Block 2 (Kakadu)
Block 1, (Jabiru) has 28 kennels and Block 2, (Kakadu) has 36 Kennels. A total of 64 kennels. The 56 large kennels are 5.5 x 1.45 meter, and the 8 larger kennels are 5.5 x 2.9 meter. Each dog has a comfortable, locally made, custom, off the ground trampoline bed.
There are ten, 200 square meter grassy runs, that the dogs utilise daily. With plans to increase the number of runs and introduce a 4000 square meter dog activity park (nearly a football field) woof!
Block 3 (Little Dog pens)
Block 3 (Little Dog Pens) is made up of 8 various sized, roomy, grassy areas and cabins where shared boarding happens. There are future plans to build a much larger community run for the little dogs and shall be completed before the mid year holidays.
Each kennel block has the added security of 24/7 infra-red camera and sound monitoring. This may be viewed from anywhere internet can be accessed.
Doggy Day Care Kennels
Unrestricted access to outdoor play area where dogs can have a day filled with activities including agility runs and water play areas.
Dogs will need to have a behavioural assessment to find their suitability for this activity prior to staying with us since some dogs just don't play well with others.
FEES
Boarding Fees
Block 1 Jabiru and Block 2 Kakadu, Kennelled dogs low-season $28/day and peak $30/day.
Little dog runs with shared rooms and 24/7 access to grassy play area, low season $22 / day and peak $24/day
Peak Seasons
School holidays, public holidays, Christmas and Easter and New Year holidays
Extras
Medication $2.00 per administration
Own Food $2.00 per feed although we do provide quality vet approved meals. We don't offer a discount for bringing your own food.
Hydro bathing
$15 for little dogs and $20 for the larger dogs. Includes a towel dry and dog dependant blow dry (some dogs just don't like it).
Flea n Tick Treatment   
$15 for little dogs and $30 for larger dogs
Conditions for Entry
Minimum Vaccination is a C5 and must be up to date. C5 vaccinations include Canine Cough, Distemper, Parvovirus, Hepatitis and Parainfluenza.
We must see the vaccination to confirm they are current.
Vaccinations must be given 7 days prior to boarding with us to assist in protecting all dogs staying in the kennels.
Puppies must have the full series of vaccinations completed 14 days prior to boarding with us, some vets do 2 some do 3 vaccinations in the series. (FYI some puppy vaccinations are identified as C4 and B/Boral/Nasal which is the equivalent to the C5 and will be accepted by us)
Minimum Treatments – worming and flea treatment should be done 28 days prior to boarding. With the constant threat of paralysis ticks in the area, we recommend that you also treat for ticks.
It is the responsibility of the pet owners to advise of any medical conditions that the pets may suffer.
We are happy to continue any health plans that your pet is currently undertaking.
Only desexed dogs are allowed to participate in shared boarding facility.
All dogs must be on leads on arrival
Dogs must not mill around in the reception area whilst waiting to be housed.
Your contact details must be up to date and accurate to enable us to contact you and care for your pet appropriately.
Whilst it is nice to bring toys and bedding with your pet they often become well used or even destroyed when your pets are boarding with us. We take no responsibility for any toys or bedding. You must clearly label all items that you bring in with your pet.
All our rates include GST our payment methods are EFTPOS or Direct Debit.
A non-refundable 20% deposit (min $20) is required within 7 days prior to arrival.
Any bedding damage that is caused by your pet will be charged as per our boarding agreement.